I have absolutely fallen in love with simple embroidery projects. This adorable hot air ballon hoop art project is another free pattern by Bev at Flamingo Toes. If you aren't following her, you need to start! She does crochet, needle art, crafts, and her stuff is adorable. All of her projects are my favorite (yep, this is possible). This Hot Air Balloon Hoop Art turned out so awesome, and just like the Vintage Camper Hoop Art, it comes together quickly and easily. It's absolutely perfect for beginners. This was my third-ever embroidery project, so you know I am telling the truth that it is super easy.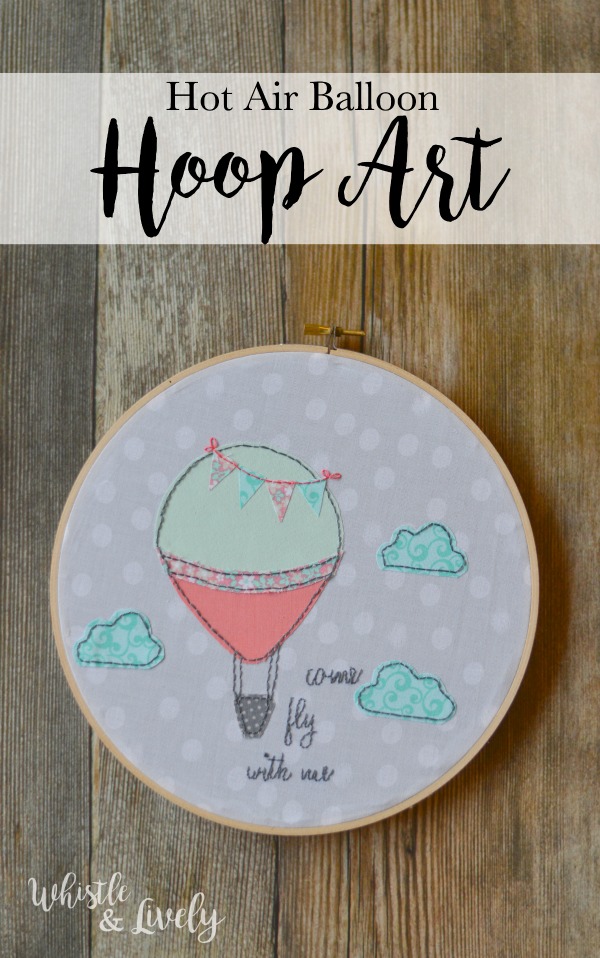 The look for this hot air balloon hoop art is achieved by using iron-on webbing. This easily and quickly attaches the fabric pieces together before you begin embroidering, so it's very easy. I used the back stitch for all the stitching on this piece, except for the small ties (lazy daisies) for the bunting (click here for photo tutorial for the lazy daisy and back stitch). My version is quite a bit simpler than the original, but it still turned out very cute.
I got a bit off when doing the letters. I should have unstitched it right after I got off track, but I think it turned out okay. I love that Bev used a cute font that looks like hand lettering because it really hides any small mistakes that may occur. In my case, quite a few mistakes occurred (betcha can't tell!).
I gave it to my mother-in-law and she loved it! And I certainly love the instant-gratification of this cute balloon hoop art because it took less than an hour from start to finish.
I hope I can convince you to give it a try! Bev has the pattern and tutorial FREE on her blog.
Get the free hot air ballon hoop art pattern HERE at Flamingo Toes.
Enjoy!