When I was a child, my grandmother had a large shelf in her living room. The shelf featured different knick-knacks and decor of all kinds. She had a metallic music box, shaped like a stick-figure playing a small piano that I loved to wind up and listen to. She had a very large, beautiful pink conch shell that my great-grandmother found on a beach during her many trips. She also had a large, lush terrarium. I love that terrarium! Under leaves or sitting on a rock were small stone frogs. I love them! I don't know for sure, but I think she moved them around so they would be in a different place for our next visit. It was such a simple thing, but it was such a fun thing to peak in the terrarium and find the frogs. That's why I just had to add frogs and lizards to my cute Treat Jar Terrarium.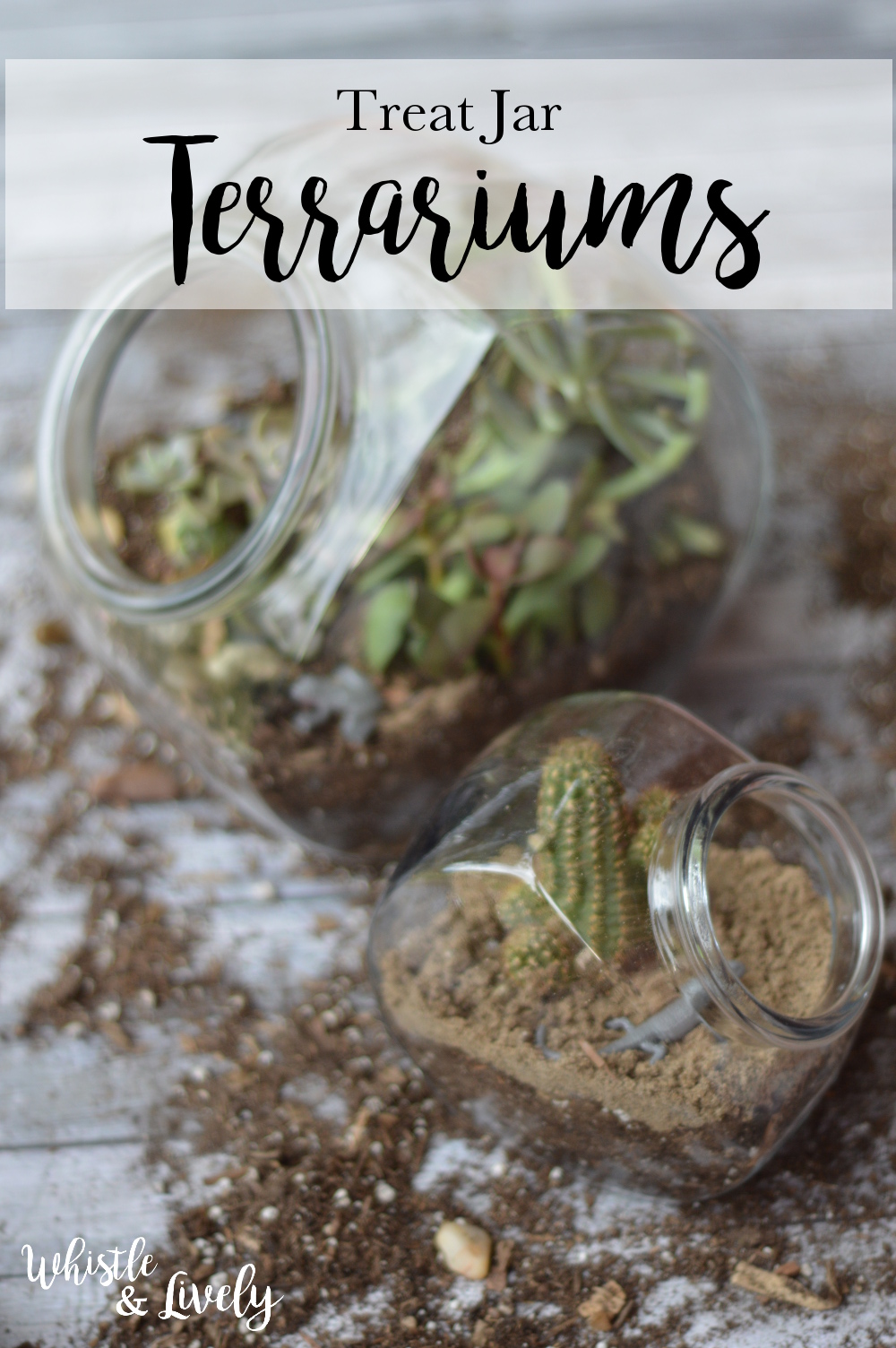 Treat Jar Terrarium
What you need: (affiliate links)
Start by putting a thin layer of rocks at the bottom of your candy jar. This allows the water to drain down and keeps mildew from setting in the soil.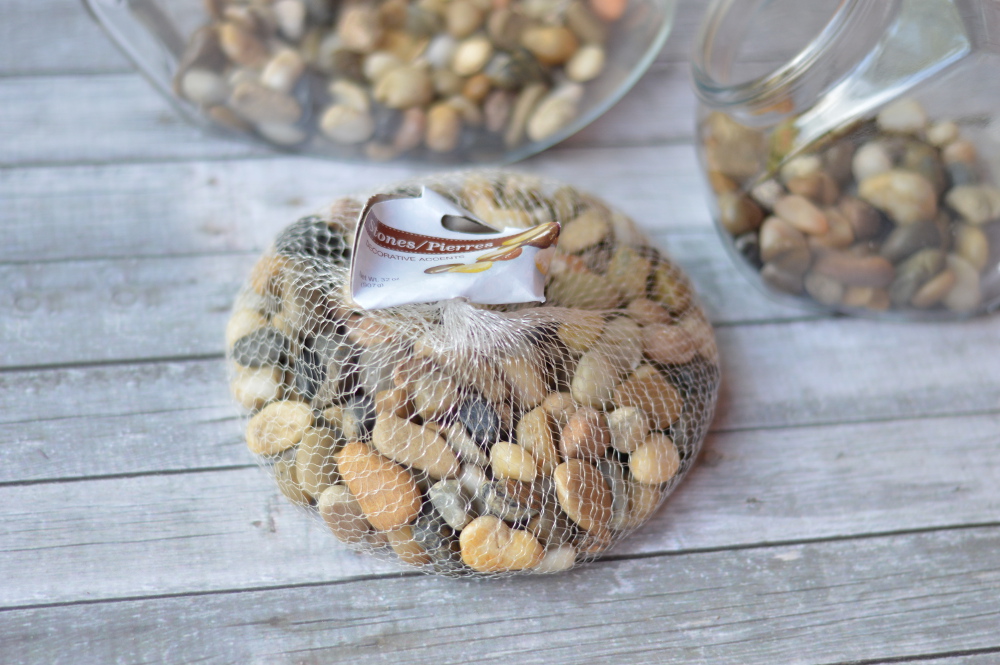 Next, add a thin layer of potting soil. Don't over do it, you need to leave room for the potting soil that your plants are growing in. I had to take a bit of soil back out once I had put it in.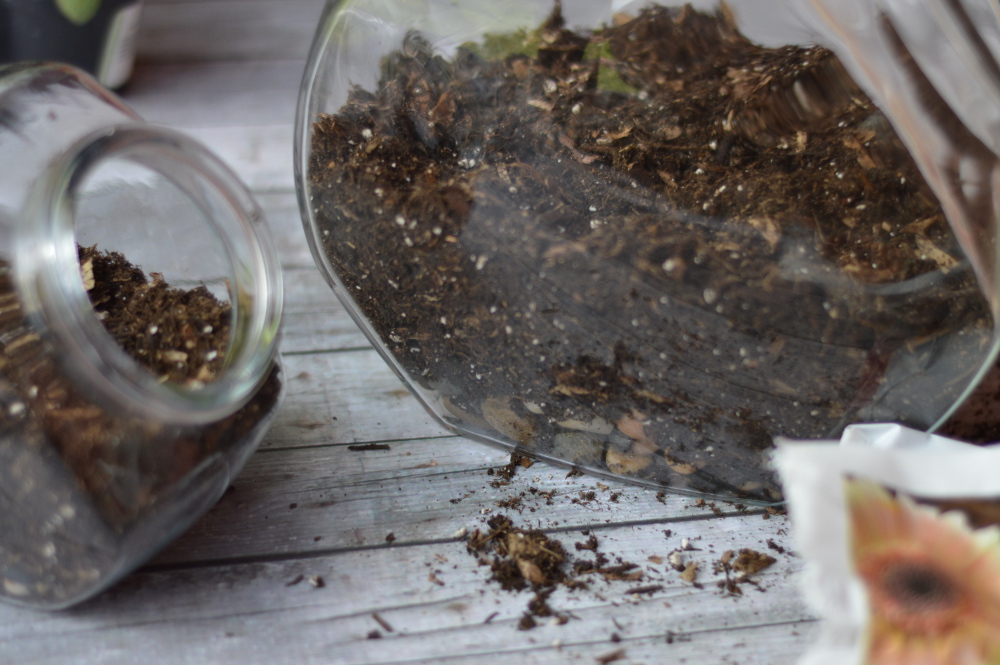 Next, using your fingers and working from back to front, dig a small hole in your dirt. Take your plant out of its plastic container, and gently place it in the small hole. Spread soil on top, and press it down. Repeat for each plant.
If you chose a cactus, make sure to gently hold it with a paper towel to avoid pricking your fingers.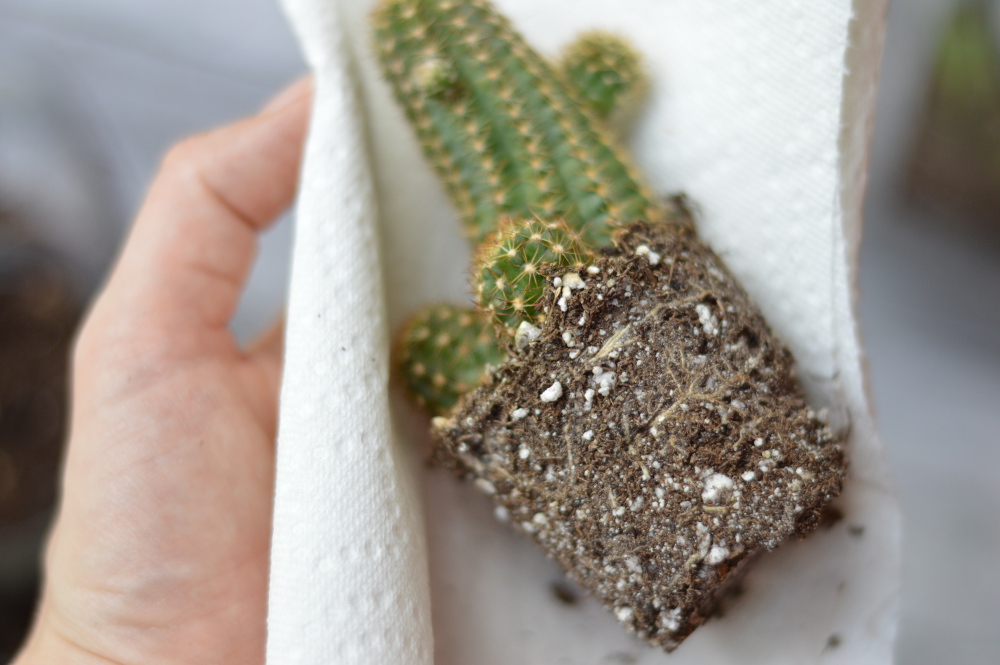 You can put your "wildlife" in as they are, but I liked them to look a bit like stone.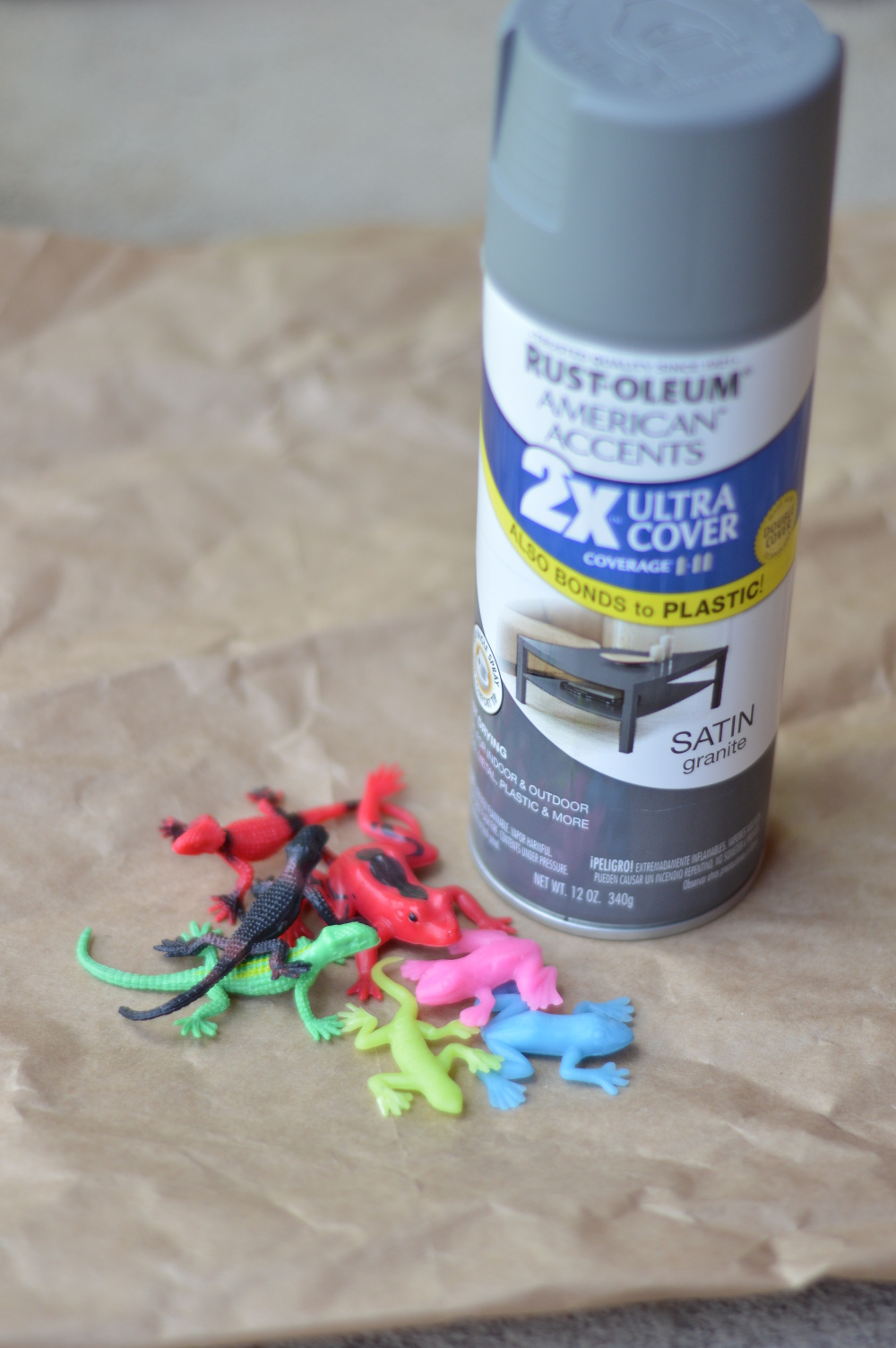 Grab some spray paint and cover the animals completely. Let them dry before placing them in your terrarium.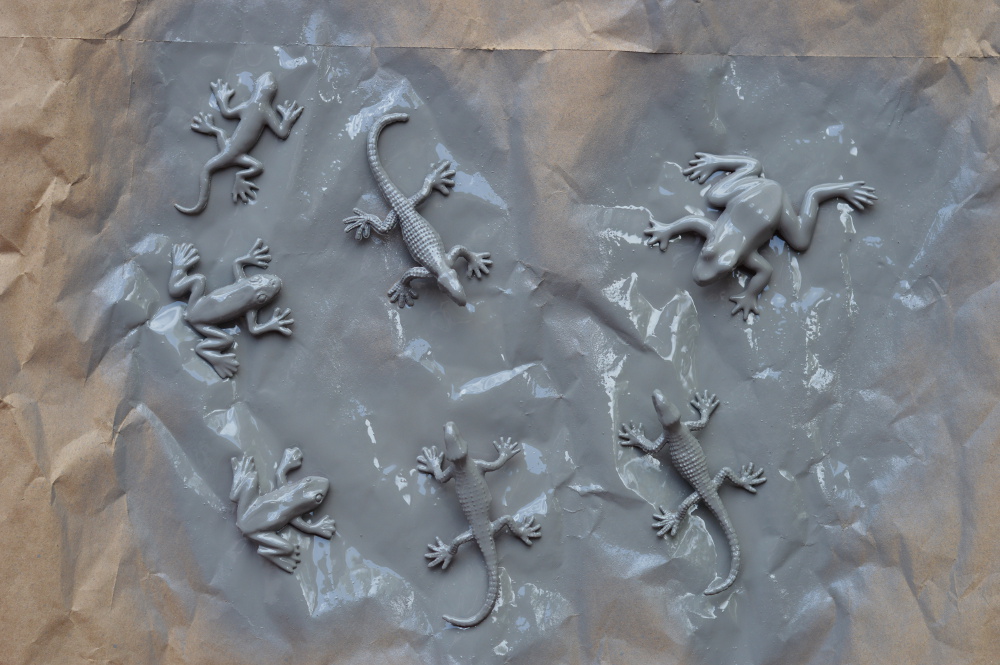 I added a bit of sand to the top of my cactus terrarium, this little lizard looks perfect sitting beside the cactus.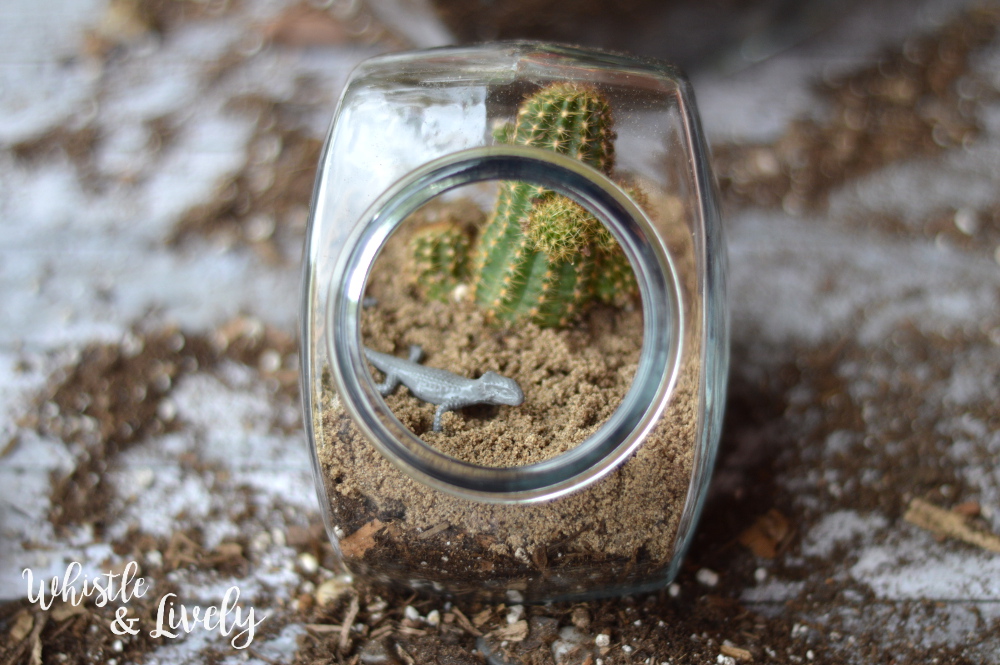 I place a few frogs in the other one. It makes it look more interesting and fun.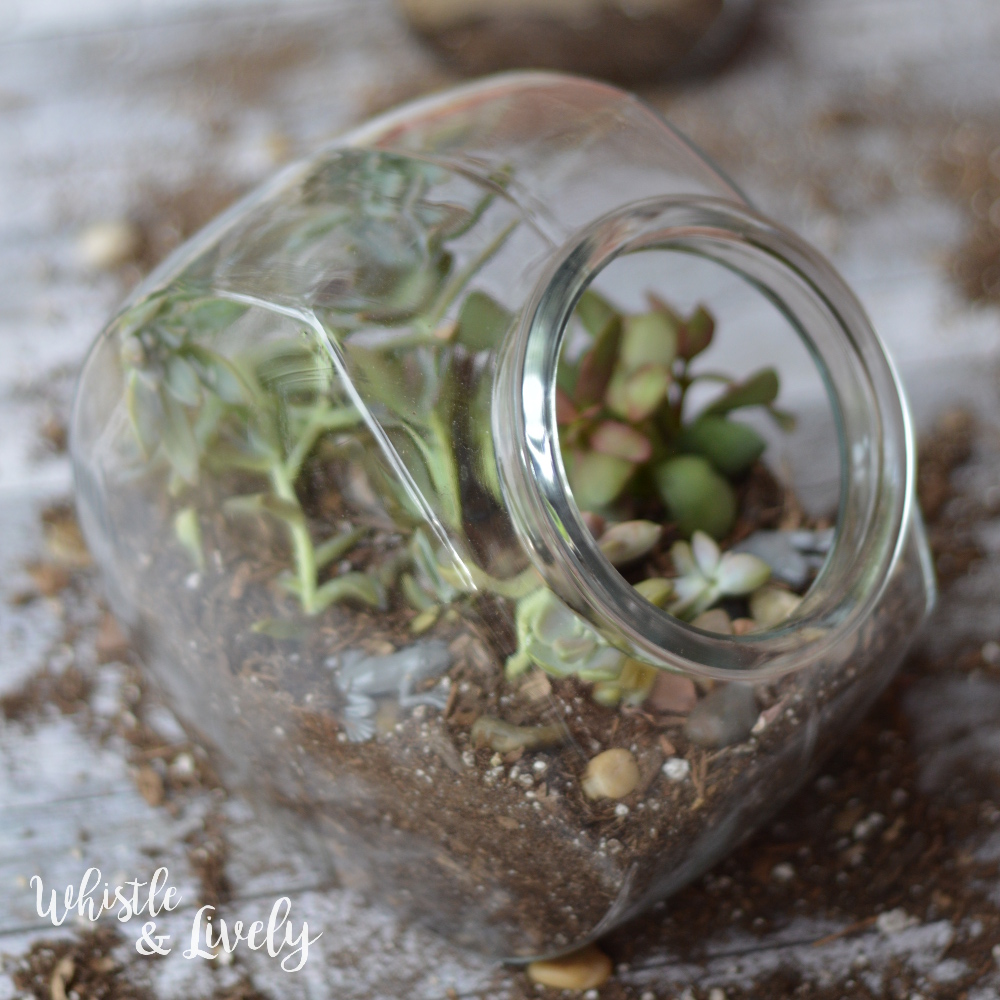 Make sure to place your terrariums in a bright, well-lit room, and read and follow the directions on the packaging for plant care. I am going to try really hard to keep these beauties alive.
Wish me luck you guys. I'm gonna need it.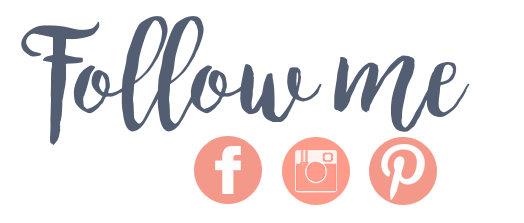 Happy crafting!
Originally posted at Pretty Providence