Use this free baby album printable to document that first precious years of your baby's life! The pages in the free album printable include places to write in all the things you want to remember about your new little one so you can create a one-of-a-kind keepsake to remember all those precious moments. This post contains affiliate links, which means I get a small commission at no extra cost to you! Thank you for your support.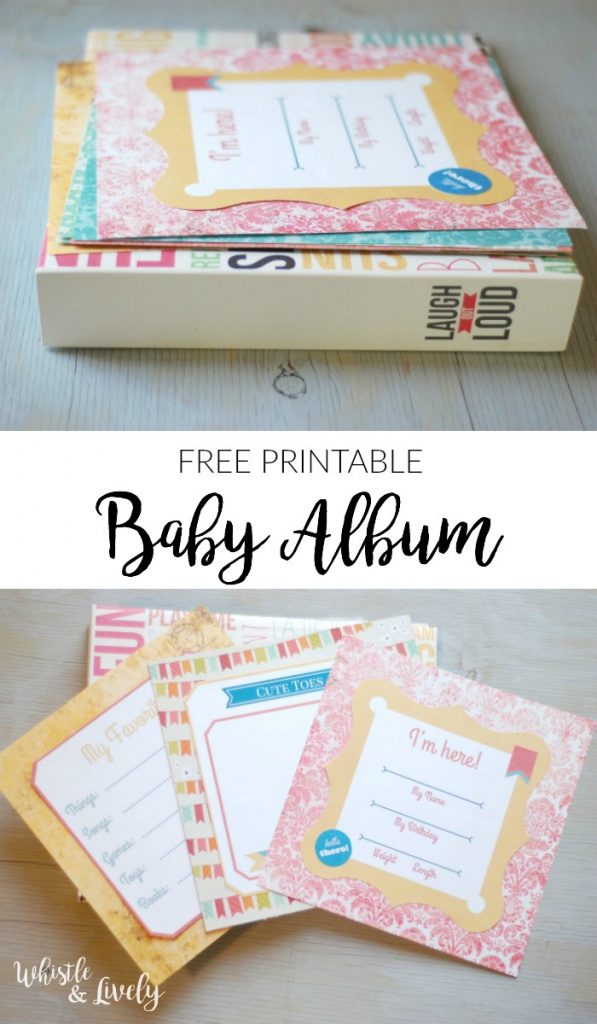 It's hard to believe how fast time flies. When I was pregnant with Sis, I was having a hard time choosing colors for her nursery (our daughter was our second child, after my son so I was switching things up a bit). I was decidedly against pink. There are so many beautiful colors in the world, why settle for plain 'ol pastel pink?
When The Boy was born, I found an adorable album for him. It had some pre-printed pages and spaces to record memories, firsts and other things. The search to find a cute non-pink feminine album with ready-made pages proved rather difficult. After searching for weeks and coming up empty handed, I decided to make my own! I chose bright, happy colors and it definitely works with her bright, happy disposition.
The empty D-ring album I found to use is made by Kaisercraft. You can find their albums on Amazon or on Blitsy. They are beautiful, durable albums and I definitely recommend them for your baby album project.
EASY BABY ALBUM PRINTABLE- FREE PRINTABLE
What you need:
– Large D-ring album (Amazon or Blitsy)
– Coordinating Scrapbook Paper (Amazon or Blitsy)
– Scissors
– Glue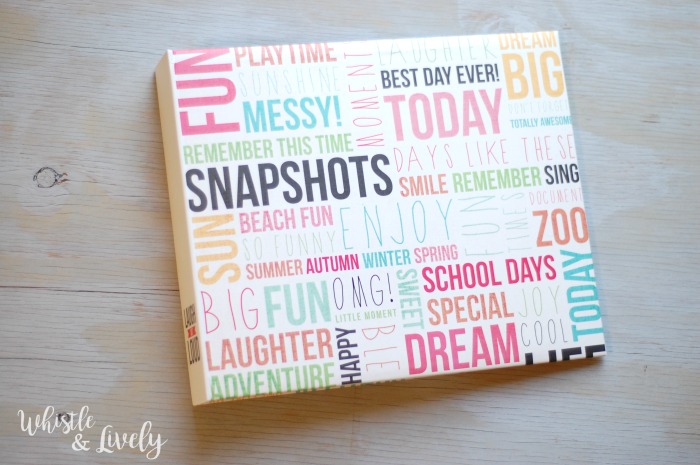 The PDF printable includes 6 pages, with space for firsts, footprints, height and weight, and favorites. I also included a 7th page with a bunch of cute color-coordinating embellishments.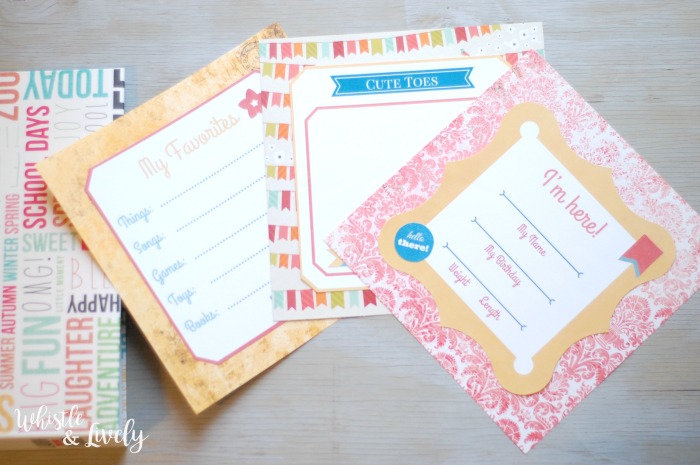 Get the PDF here:Baby Album Printables
This baby album was also incredibly easy to put together once the pages are printed. I usually take my print jobs to an office supply store. You can get yours printed on standard paper, but I recommend getting them printed larger for the 12 x 12 album. The store I went to didn't have a 12×12 option, but they had a 11 x 11 (11 x 17, but you just cut it down), and it turned out great. I used white cardstock and everything was easy to cut out and glue together.
After your pieces are cut out, you simply glue them on top of any pretty paper than you choose! Then you can place them in the plastic sleeves that come with your album.
Super easy!
Now I have the beginning of a baby album! Of course I will need to actually print off photos to add to it…
Thanks for reading, and happy crafting!