This post is sponsored by Plaid. All opinions an ideas are 100% my own.
I hope you are all getting in the Halloween spirit! It's one of my very favorite holidays so I get excited quite early. My husband laughs when I get the decor out in September. Plus, we recently moved to a house in a children-filled neighborhood, so I think we might have trick-or-treaters this year (that will be a new change for us!). I know, it's a bit early BUT these DIY Carnivorous Plants are so easy to make and are a cute addition to your Halloween porch decor. So if you aren't doing Halloween yet, put them on your to-make list!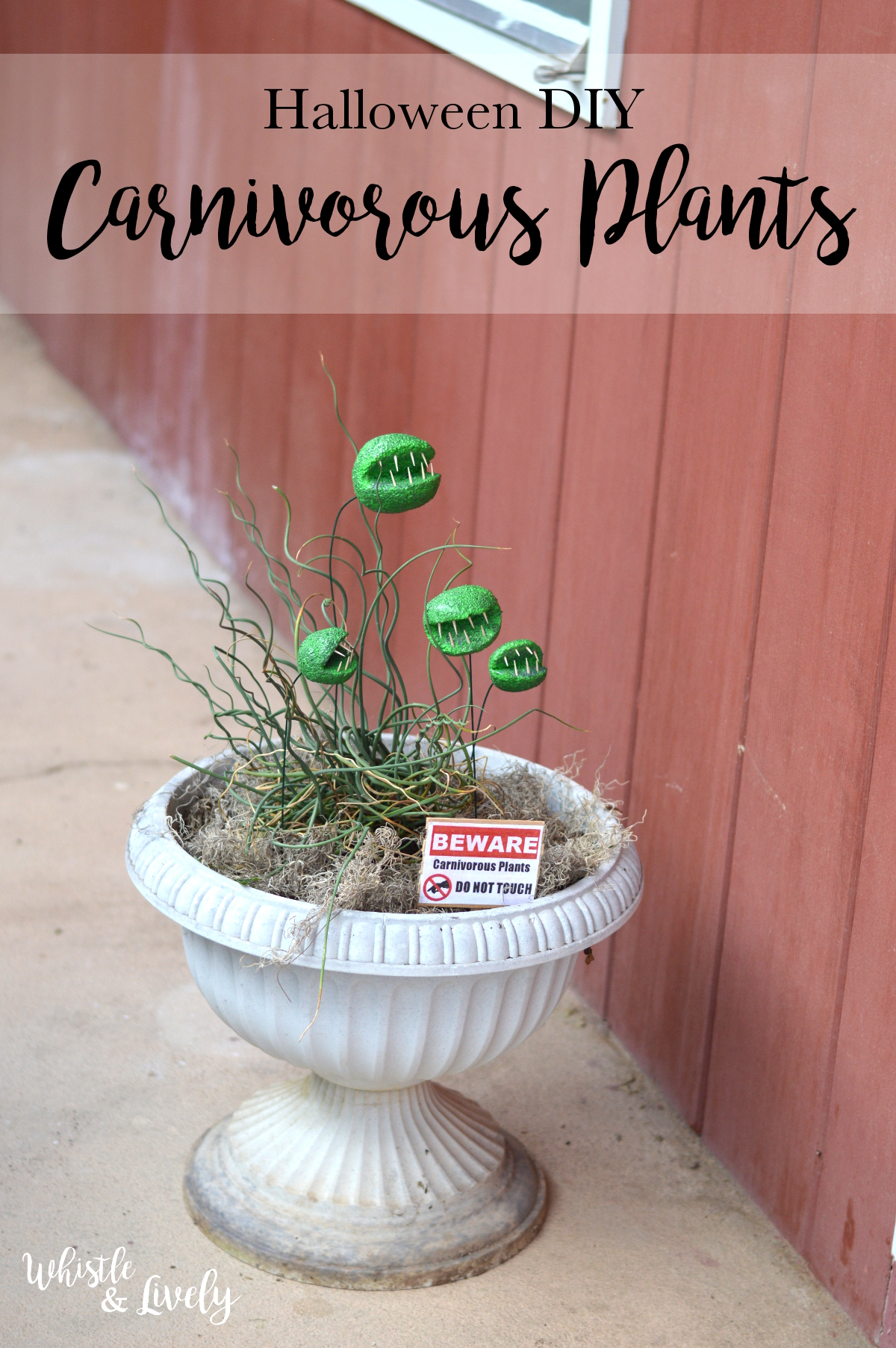 DIY CARNIVOROUS PLANTS
What you need: (affiliate links)
I enjoyed making these biting heads so much! It was so fun to see them "come alive", and they turned out better than I had expected, which is not something that happens too often (winning!).
Start with your foam balls. Any size will work, but I got a pack of 6 with assorted sizes, and I like how the differences look. You will need a precision knife to carve them out.

Begin by carving the mouth. It's not super precise and you don't need a pattern. Shoot for a Pac-Man look and you will be fine.
Once you have a smile line for the mouth, carve it out with your knife to make it larger and deeper. The more you carve out, the wider open the mouth will look. Be sure not to carve it out so much that it will be hard to insert the toothpicks later.

Next, sand a bit off the top and the bottom to flatten the ball out a bit. You can leave them perfectly round it you prefer the shape.
Before painting, cover the foam balls with a layer of Mod Podge. Using your foam brush, dab Mod Podge all over the surface. It seals the foam before painting, so it doesn't drink up the paint.
Once it's dry, you can start painting!
Apple Barrel has some super fun Halloween colors, I went with Clover Fields, Wild Grape and Black Apple Barrel Multi-Surface Acrylic Paint. This paint is perfect especially if you plan on putting your plant on the porch, it works great for outdoor use.


Begin by dabbing on a full coat of paint with your foam brush. Once it's dry completely, I mixed some Clover Fields with a drop or two of Black. Dab on the darker paint in a spotty coat, giving the color some depth and texture. You can dab on other colors for a more exotic look, I dabbed a bit of purple inside the mouths. Set them aside to dry completely.
Next, heat up your glue gun and get ready to attach the toothpick teeth. You will need needle-nosed pliers.
Clip the ends off the tooth pick, leaving about 1/2″. Using your pliers, push the flat end of the toothpick in the mouth with the sharp end pointing out. If you find they aren't staying well on their own, you can put a dab of hot glue on the end, and push it back into the hole you already made. Insert the teeth in an off-set pattern.
Once the teeth are finished, you can attach the wire stem in the back. I put in right behind the mouth, instead of up from the bottom. Since the head is a bit heavy for the width of the wire stem, you will need to push it in to make a hole, then put a dab of hot glue on the end and glue it inside the hole.
Repeat for each head.
If you have an existing house plant, I think the heads will work for anything you have. A large broad-leaf plant will have an exotic jungle look, an aloe vera will be spikey and forbidding, a spider plant would look devilishly creepy… go with what you have! If you must go out and buy a plant, I suggest this wild-looking one. I picked up this tentacle-looking grass plant called a Corkscrew Rush. It was marked down to $3 at my local garden center, so it worked out perfectly.
Next, if you would like to make a Beware sign, I took the liberty of making a graphic. I am not great at making them, I will not even tell you how long it took me to choose the fonts. Yikes. But if you want to use it, you can find it here.

I made a simple wood sign with a few popsicle sticks. I clipped the ends with wire cutters for a rough-cut look, and hot glued two pieces on the back to hold it all together.

Mod podge the printable on the top by applying glue to both the paper and the wood. Be sure NOT to modpodge over the printable, the printer ink will smudge.
Stick the heads and the sign in your plant, and you are done!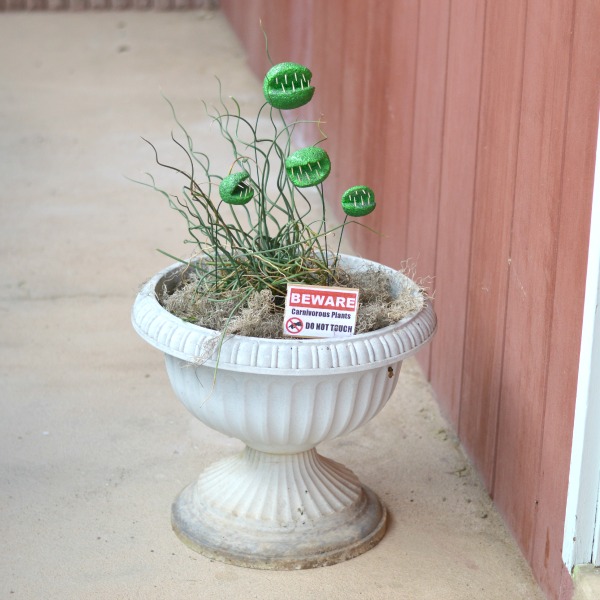 You now have a fabulously creepy carnivorous plant ready to bite anyone who dares come near!
Mwahaha!
Happy crafting,